thursday was great. tattoo machines were running all night. come check out their work today/tonight!
---
---
---
Our event is on facebook.
Please share!
https://www.facebook.com/events/463472617179154/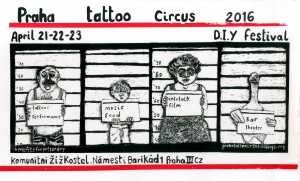 ---
---
---
---
Tattoo Circus
Tattoo Circus is a DIY festival achieved through the collaboration of artists who use creativity to unite people in the anti-prison struggle. It celebrates self-expression whilst exploring the politics of freedom.
You can expect to meet there tattoo artists and performers who use their creativity to bring awareness to the plight of those incarcerated and oppressed under the laws of coercive governments. All of the money collected during the event goes to organisations supporting political prisoners on the inside and outside.
This will be the first Tattoo Circus in Prague, we hope it will be as brilliant as all of those which came before in Barcelona, Lausanne, London and Berlin (to mention just a few), and not forgetting the original in Rome, 2007.
The festival will provide space to get informed about prisoners and their struggles, and the wider anti-prison movement. You can read about individuals, write letters of solidarity and generally just support the cause how you can.
For the rest, we will introduce in the coming weeks, but expect live bands and DJs, theater, films, lectures, discussion, distro, and some top quality food and drinks.
The organisation of Tattoo Circus is horizontal, with everything decided collectively. If you want to join the circus and enrich the cause, then contact us at prahatattoocircus[at]riseup[dot]net
---